The Birth Center at PCC is temporarily closed due to staffing issues. Waterbirth, doula care, and a hospital birth center option are available for patients seeking birth center care with our midwives. The Family Birthplace at West Suburban Medical Center is available for Midwifery patients at PCC  
For more information about this option, waterbirth, or doula care through PCC, please contact Mary Sommers, Director of Maternal Child Programs & Birth Center at (708) 386-0845 or This email address is being protected from spambots. You need JavaScript enabled to view it.. 
At the intersection of four communities – Chicago, Berwyn, Cicero, and Oak Park – the Birth Center at PCC stands as the first freestanding birth center in Illinois. The Birth Center at PCC is a home-like facility separate from the hospital where mothers can birth their babies. Birth centers are integrated in the health care system and are proven, safe options for qualifying women.
The Birth Center at PCC increases access to birth center care for all women, including racial and ethnic minorities, and people with low incomes. The Birth Center at PCC also accepts many Medicaid Managed Care plans, making it one of few out-of-hospital options in Illinois for people that use public health insurance.
Our birth center features two birthing suites each with its own private bathroom. Each tastefully designed birthing room has a full-sized bed and built in water birth tub. A yoga ball and birthing stool are also available. The birth center also includes two separate family rooms, one of which has a kitchenette stocked with snacks for the laboring mother.
The Birth Center at PCC is staffed by PCC midwives. We hold a transport agreement with West Suburban Medical Center (only 2.2 miles away) for the care of mothers or babies who develop a need for higher level care during labor or in the hours after the birth.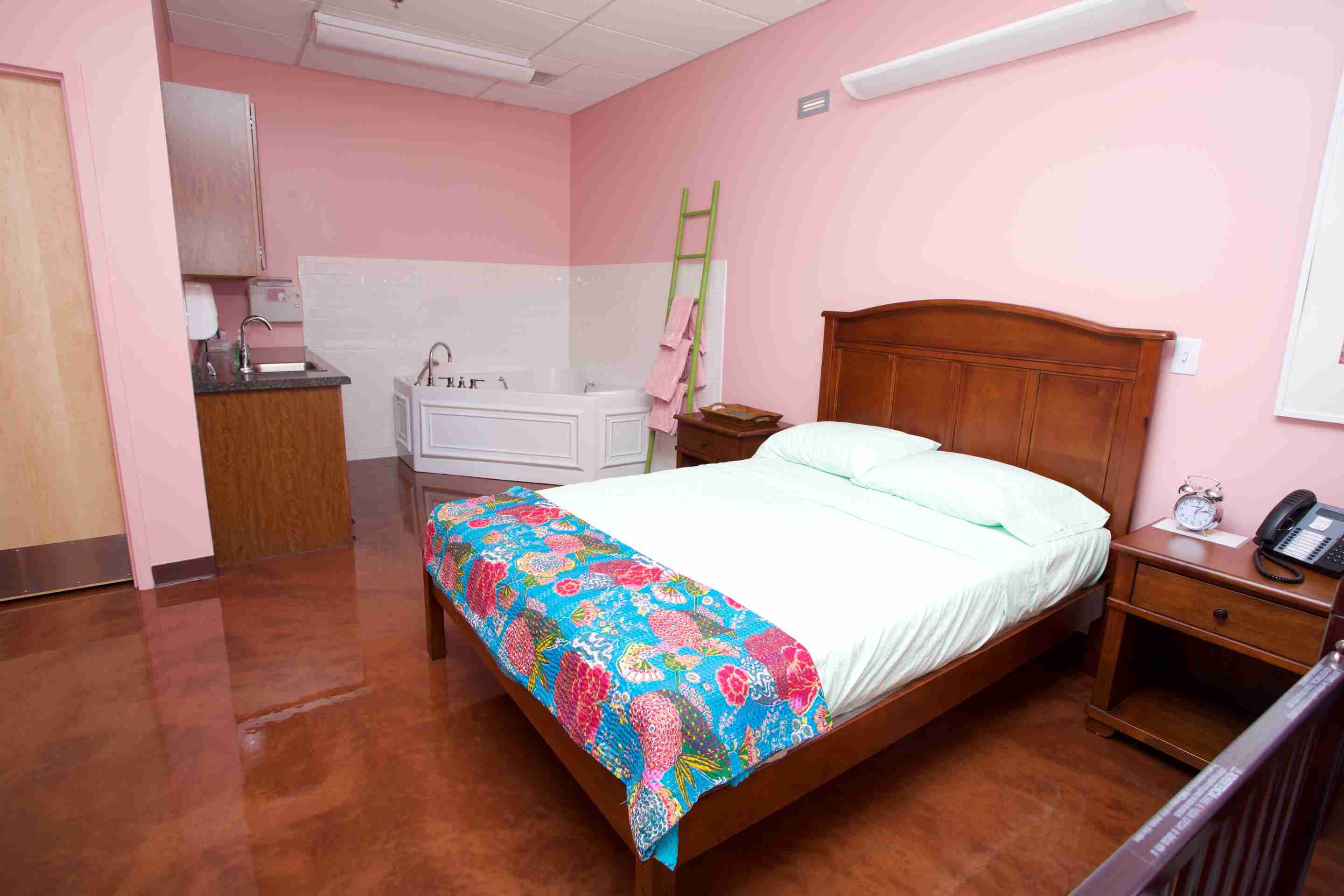 Birth Center Accreditation
PCC chose to seek accreditation from the Commission for the Accreditation of Birth Centers (CABC), the gold standard for optimal birth center operations. Accreditation creates a mutually beneficial relationship. The CABC has served as a vital resource for PCC's planning and continued quality assurance. Preparations for CABC accreditation, including the initial site visit, served as a strong foundation for state licensure preparation. Moving forward, PCC will submit annual progress reports to the CABC. We will reapply for accreditation on three year cycles.
In addition, PCC has successfully achieved accreditation from The Joint Commission, the premier accrediting body in the nation. The Joint Commission standards focus on important patient care and organization functions that are essential to providing safe, high quality care.
Licensing
The Birth Center at PCC is licensed by the Illinois Department of Public Health (IDPH). We comply with Rules and Regulations pursuant to Part 265 Birth Center Demonstration Program Code. Initial licensure was granted on October 8, 2014 and is renewed on an annual basis.
About PCC Community Wellness Center
PCC Community Wellness Center (PCC) is a Federally Qualified Health Center (FQHC) with eleven clinics located in Chicago's west side and the near west suburbs. The mission of PCC is to improve health outcomes for the medically underserved community through the provision of high quality, affordable, and accessible primary health care and support services. Anchored with family medicine, PCC is committed to serving the needs of all people in all stages of life. Providers and support staff empower patients to take active roles in their health maintenance and make informed decisions about their health. We also provide financial counseling and a sliding fee scale for people without health insurance.