PCC has distinguished fellowship programs that feature highly innovative curriculums that prepare fellows to address critical health issues in high-risk obstetrics, neonatology, and surgical techniques. Medical professionals who complete our programs have a solid foundation from which to lead local and global efforts to increase medically underserved communities' access to quality health care.
PCC accepts applications for its Perinatal and Child Health Fellowship Program from July 1 to December 1 each year. Fellows can choose to complete an optional second year in the global health track, where they practice international medicine at the Santa Clotilde Mission in Santa Clotilde, Peru.
PCC also has a Community Health Leadership Fellowship Program. Applications for this program are currently closed.
External rotations at West Suburban Medical Center can be coordinated through West Suburban's Family Medicine Residency Program.
Perinatal and Child Health Fellowship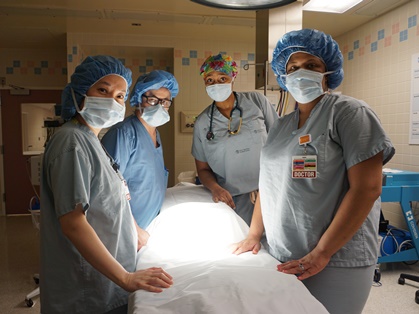 PCC Community Wellness Center sponsors the PCH Fellowship in collaboration with the Family Medicine and the Obstetrics Departments of West Suburban Medical Center. This one-year fellowship trains family medicine doctors to care for high-risk pregnant people and newborns in underserved communities including training in surgical obstetrics.
In addition to hospital work, fellows have the opportunity to serve at PCC's sites, one of which has the only freestanding birth center in the Chicagoland area. The fellowship also offers an optional global health track which includes an additional year in the program.
Procedures & Training
The PCH Fellowship trains family medicine physicians to perform cesarean sections, operative vaginal deliveries, obstetric ultrasound, D&C, tubal ligation, as well as 3rd and 4th degree laceration repairs. In addition to surgical obstetrics, the fellowship trains physicians to care for pregnant people affected by substance use disorder, and in high-risk obstetrics, Level II neonatology, ultrasonography of pregnant people, and other outpatient PCH services. Fellows will have the opportunity to gain further clinical experience in colposcopy with cervical biopsy, long-acting reversible contraceptive insertion, endocervical curettage, and endometrial biopsy in their Family Medicine continuity clinics. PCH Fellows also supervise and teach residents on the unit and in the clinic. Although ALSO certification is required prior to entry in the program, fellows will have the opportunity to earn NRP certification during the July orientation.
Fellows will participate in weekly didactic seminars, which include cesarean section and FHR tracing review, case review for the Mortality and Morbidity conference, problem-based PCH topic presentations and discussions, as well as high-risk outpatient prenatal care review. All Fellows prepare a Best Practice Guideline as well as a clinical or scholarly PCH project of their choice. The fellows are encouraged (but not required) to submit their academic work to STFM for presentation.
Number of Fellows
Six fellows are selected every year, focusing on operative obstetrics in a high-risk community as both the primary surgeon and assistant. Fellows cover the inpatient PCH service on a five-day average day / night float system. Fellows take home call for surgery to maximize their OR experience. Four half-day sessions are devoted to outpatient PCH with full-spectrum Family Medicine, Ultrasound, and High-Risk Prenatal Clinics.
Benefits & Eligibility
$65,000 salary, 10 vacation days, 8 sick days, 3 personal holidays, 5 CME days with a $1,500 CME reimbursement, hospital parking, and an insurance package. Applicants must have completed a U.S. family medicine residency program by the start date of the fellowship (July); be ABFM board-certified or board-eligible; ALSO certified; and demonstrate a commitment to underserved PCH populations.
Global Health Track
The PCH Fellowship Global Health Track is a two-year fellowship that combines the experience of the one-year Perinatal and Child Health fellowship with a second year of international service and learning. Participation in the global health track requires Spanish language proficiency. Language learning resources are available for fellows who need them. 
Click here 
for more information about this program. 
Contact: This email address is being protected from spambots. You need JavaScript enabled to view it.